Public Commissions
"Birr Oak Vessel" at The Millennium Gardens at Birr Castle.
This work was commissioned by Gallahers (Dublin) Ltd to mark the completion of the restoration of the Millennium Formal Gardens at Birr Castle.
Conversation Circle
Redwood/Oak, vessel up to 66 inches high, for Ice House Hill Park, Dundalk, Co. Louth.
Sponsored by The Naughton Foundation, Glen Demplex Ltd, Dunleer, Co. Louth.
The title was inspired by a circular Stone walled area of the same name at Arrowmont School of Arts & Crafts, Gatlinburg, Tennessee. Students would sit and chat during breaks.
The five vessels are cut in such a way that the citizens of Dundalk can come and sit in them. They can relax and chat, or sit back and meditate as the mood takes them.
"Brothers" at The Pearse Museum, Rathfarnham, Dublin.
"Of all the men that I have known on Earth, you only have been my familiar friend, nor needed I another"
Poem "To my Brother", written in 1916 by P.H.Pearse to his brother, Willie Pearse. Both were executed in Kilmainham Gaol in 1916.
Liam created this piece, commissioned by Duchas (The Heritage Service), to commemorate the Patriot brothers Padraic and Willie Pearse.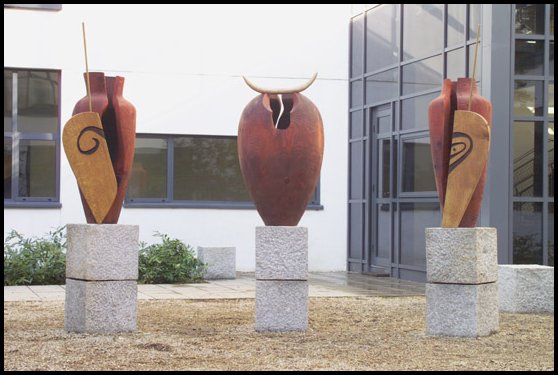 The Táin
The spears are brass and the bulls' horns are cast bronze.
| | |
| --- | --- |
| | |
| Cúchullain | Ferdia |
Redwood/Oak- Vessel up to 50" high on 36" Plinth of granite.
Veterinary Dept, University College Dublin, Belfield, Dublin 4.
Commissioned by Mr Sean Brennan.
PUBLIC COLLECTIONS INCLUDE:
National Museum of Ireland, Dublin
Crafts Council of Ireland.
The Woodturning Centre, Philadelphia, USA
Arrowmont School of Arts and Crafts, Tennessee, USA.
Carlow County Council.
Mason Collection, Mint Museum of Craft and Design, Charlotte, North Carolina, USA.
Craft Collection, University of Illinois, Chicago, USA.
Return to Home Page
Visit our Gallery and Sculpture Garden during your next trip to Galway!
Liam & Cathy O'Neill
Wood Gallery and Sculpture Garden
Baile Eamoinn
Spiddal
County Galway
H91 WR6H
Ireland
Contact Details:
Tel: +353-87-231-2511
E-mail:
All material on this website copyright Liam O'Neill ©2001 -